ADDAC System's take on granular synthesis includes longer buffer sizes, making unit versatile for 'accidental effects', subtle processing, or complete transformation of incoming audio signals
Lisbon, Portugal — ADDAC System announces its first comprehensive take on granular synthesis: the ADDAC112 VC Looper & Granular Sampling module. The new 32 HP Eurorack module and the accompanying 13 HP patchbay [ADDAC112B], bring a sea of possibilities to modular synthesists looking to bring granular synthesis and powerful looping features into their soundscapes.
"There's a long history behind the granular concept and many reinterpretations of its core principles, and this is our take on it," comments ADDAC System founder André Gonçalves. "In a loose description, digital granular refers to pieces of sound files being played at the same time with slight, or completely different parameters — originating what is commonly referred to as 'granular clouds'. In our vision, we added the possibility of extremely long buffer sizes — up to 5 minutes,. This allows "softer" approaches to the granular principle. using it as an effect that can generate both 'accidental' effects like slight 'stutters' to more extreme processing or complete transformation of any incoming audio signal."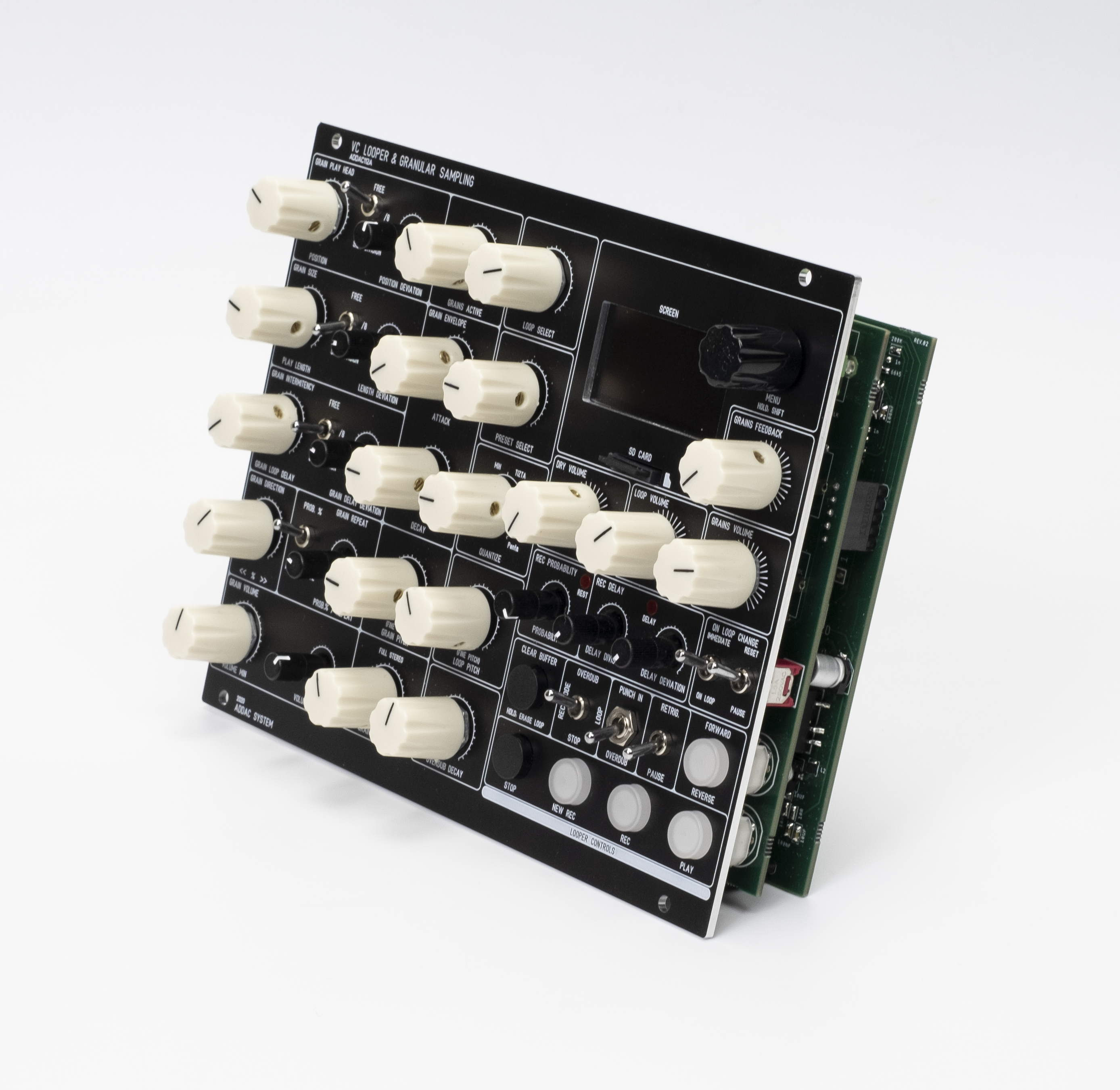 While the new ADDAC112 VC Looper & Granular Sampling module is deep both in its concept and capabilities, it is easy to grasp. All of its controls are in its dedicated panel, while its I/O is located on a separate panel. This allows no compromise, tactile control over performances both live and in the studio.
The Looper Engine
The module consists of three main sections: the Looper Engine, which is where all the 'real-time' recording happens. Multiple controls within the Looper Engine section allow users to record and play loops into a list so that samples may be accessed at any given time. Using the included SD Card, the Looper Engine can store a total of 99 loops per preset, and five minutes of sampling time can be shared for all loops loaded into a bank. Loops are saved as separate 16 bit, 44.1 kHz mono .WAV files
The Granular Engine
The Granular Engine features a deep set of controls, allowing a wide range of results. This section was designed to be fully hands-on, with all controls readily available on the front panel allowing for immediate playability. After a grain is initialized, the Granular Engine will read and calculate all parameters, continuously calculating new settings every time it starts playing. The Granular Engine feeds from whatever LOOP buffer is selected — therefore the size of any grain is dependent of the LOOP size
The Output Mix
The third component of the ADDAC112 VC Looper & Granular Sampling module is the Output Mix Section. This section allows individual control over the dry Input, looper volume and grains volume so they can be summed and combined into the stereo outputs.
In addition to each of these three sections, all of the front panel control knobs have their own CV input, and all controls on the left block (ADDAC112) have a corresponding I/O matrix on the right block (ADDAC112B).
The new ADDAC112 VC Looper & Granular Sampling module will be shipping in late March for a cost of €540.  
For more information or to order, please visit http://www.addacsystem.com.
About ADDAC System
ADDAC develops advanced instruments for sonic expression. The company started back in 2009 with an ambition to explore the potential crossover between analog synthesizers and computers. Because its first creations sparked a lot of attention, ADDAC decided to work hard and put them in customers' hands. Today our product line is focused on a new breed of hybrid synths, that make use of the best of both the digital and analog worlds. We've grown to be able to reach thousands of enthusiastic clients, friends and collaborators. Always looking into conceptualizing and developing the most exquisite instruments, we hope you're able to join and share this passion with us.